Excerpt from The Professional Corporation – Selling Your Practice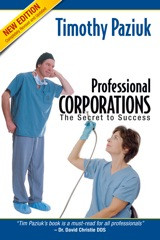 Capital Gains Deduction
Another important tax opportunity for owners of businesses is the capital gains deduction. Every individual is entitled to a lifetime $750,000 of capital gains deduction on certain small business shares and qualifying farm property.
You may have elected to use some of your capital gains deduction in previous years. Up to February 22, 1994, a general $100,000 capital gains deduction was available on all kinds of property for everyone. An election was available for that year when you "led your 1994 return. Any amounts used previously are deducted from your $750,000 balance.
For the shares of your professional corporation to qualify for the capital gains deduction they have to be "qualified small business shares". The definition of a qualified small business corporation share is as follows:
Substantially all of the business assets must be used for carrying on an active business in Canada or be shares and debt in other small business in Canada or be shares and debt in other small business corporations. The CRA considers "Substantially" to mean 90 per cent or more; this is referred to as the 90/10 rule.
Nobody but you or a person related to you can have owned shares for the two years before you sell them.
Throughout the two-year period, more than 50 per cent of the corporation's assets must have been used principally in an active business operated in Canada. This is referred to as the 50 per cent rule.
Let's look at an example of two dentists, one living in Ontario and the other in British Columbia. Dr. Ontario owns a cottage. He inherited it from his father in 1978. At that time, it was worth $80,000. In 1990 the cottage was valued…
To continue reading Professional Corporations – The Secret to Success,
please purchase a copy: