Dear TPC Financial Group Ltd. clients, associates, and other interested professionals,
As part of our commitment to professionals and business owners across Canada, our office has been doing our best to keep all parties informed of ongoing developments related to Bill Morneau's proposed tax changes, as well as to help spread information to the general public about the impact of these changes.
CASE STUDY #2
The finance minister has presented small business owners and professionals as tax avoiders who are exploiting perceived "loopholes" in the system.
In last week's case study, our office outlined how a younger dentist would be impacted by the income splitting restrictions proposed by Morneau.
For our current case study, we have provided an account of how these changes would impact investment income inside of a corporation, and what effect this could have on retirees.
Our case study focuses on Joe, who is in his first few years of retirement after finishing his career running a successful contracting company. This account of Joe and how his retirement income could be affected outlines how out of touch Mr. Morneau is with a large segment of the Canadian population. The Huffington Post article can be accessed by clicking the image below, or by clicking this link.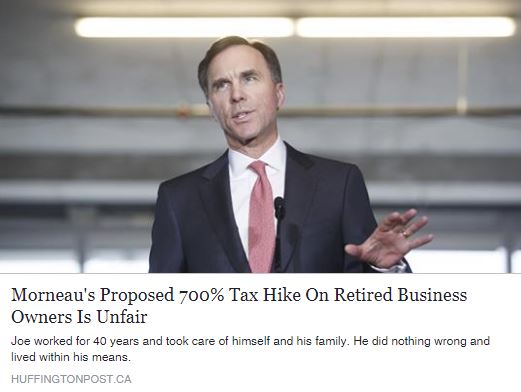 We encourage everyone to read, comment, and share the article if they agree. The more people that are aware of the challenges faced by young professionals, the softer the federal government's stance will be on the proposed changes.
LETTERS TO YOUR LOCAL MP
A past newsletter provided a letter template that anyone can forward to their local MP in order to have their voice heard. We also provided email and mailing addresses to get your letter in front of your MP as quickly and as easily as possible. If you wish to access this letter, you can download a copy here. 
Contact information for your local MP can be found here.
UPCOMING
August 21st: Our office will be drafting an open letter to Bill Morneau that will provide a detailed analysis on why these proposed changes are not in the best interest of the Canadian economy.
August 28th: We will define the "reasonability test" that is being proposed for income to spouses and family members.
September 4th: TBA
September 11th: TBA
September 18th: TBA
September 25th: TBA
If you have any questions or concerns about how these proposed changes could impact your specific situation, please do not hesitate to call our office and speak with a TPC Financial Group advisor.
If any of your colleagues wish to be kept informed of ongoing developments, feel free to forward our newsletters or encourage them to subscribe on our website.
ADDITIONAL ARTICLES AND INFORMATION